It was on our 12th anniversary and I couldn't get my wife on the phone to see if she wanted to say hello even though we were divorcing. So when I couldn't get her, I decided to go to where our old neighbor had moved. It was Sunday and I wanted to watch the Cowboys game. So the way his house is relative to the side street is you make this corner and BAM! it's right there. I was driving a little erratic anyway and made the corner and almost ran into the back of my wife's jeep. Ah Ha! #1. I knew she was fucking some one, I just didn't know who. So I walked by her jeep and felt the hood and it was cold so that was Ah Ha! #2. I went to the door and knocked and no one answered, so I knocked harder. They hadn't closed the door to, and the bolt hadn't caught in the keeper and my knocking pushed the door open. So I walked in and there the old neighbor was, standing in a room with no furniture in it, leaning on the wall. Just like what you see in the movies where they sort of look around hoping you won't notice them standing there leaning on the wall in an empty room. I walked on in and to where the bedroom was and my ex was in the bathroom and came out about the same time I noticed her over night bag next to the bed. I just walked up from the back and sort of wagged my finger to and fro and asked slowly"are you fucking my wife"?
About this time Lisa comes out and steps up and puts her face right next to mine leering at me and asking me "what the fuck are you looking at" and I started laughing and walked out.
Of all people..... I called my mother and said "I know who Lisa is fucking and it's Eddie our old neighbor". I am sure that right then and there, my mom was sold on Lisa because they are both monsters.
I am pretty sure all of them are bound for hell.
(this is the guy that let her park her boat in his driveway. The one she bought with assets she hid from the me and the court and he told me it was his boat when I drove up one day as he was washing it)
He even gloated to me about what a cool boat he owned.
I wonder if they have boat ramps in hell?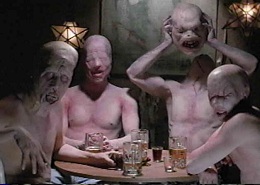 What have we learned from this post? First don't marry a woman with a penis or a man with a vagina. I don't know if my father had a vagina or just acted like he had one. But I am pretty sure my ex-wife had a dick.